Ministry Practice Soul Center
Are you called to open a ministry practice in your community?
Christian Leaders Alliance allows credentialed ministers to register their ministry practices. To find out more About the credentialing program – Click Here.
A ministry practice is a way of serving others through the lens of faith. It can be anything from providing Minister Coaching to Prayer. Ministry practices can be found in various settings, including churches, homes, and storefronts. They can be led by volunteers, part-time ministers, or full-time clergy.
There are many different types of ministry practices. Some common examples include:
Minister Coaching: This type of ministry supports and guides people struggling with personal or spiritual issues.
Spiritual or Pastoral Counseling: This type of ministry leverages pastoral care ministry skills.
Prayer ministry: This type of ministry offers a space for people to pray and connect with God.
Visitation ministry: This type of ministry involves visiting people who are sick, homebound, or in prison.
Matchmaker ministry: This type of ministry helps people find love and companionship.
MinistryBiz: This type of ministry is also a business to reach out to others and share the love of Christ.
Ministry practices can be a powerful way to make a difference. They provide a way for people to use their gifts and talents to serve others and share Christ's love. If you want to start a ministry practice, many resources are available to help you get started.
Here are some additional tips for starting a ministry practice:
Pray about it: Ask God to lead you in your ministry and give you the wisdom and guidance you need to be successful.
Be involved in your community: Get to know the people in your community and discover their needs.
Partner with others: Many other people are passionate about serving others—partner with them to create an effective ministry.
Be patient: It takes time to build a successful ministry. Don't get discouraged if you don't see results immediately. Just keep serving others and sharing the love of Christ, and God will use you to make a difference in the world.
Christian Leaders Alliance minister Edward Becher leads SEMPER FI VETERANS MINISTRY   in Huntsville/Madison County, Alabama.
Semper Fi Veterans Ministry serves active duty military, veterans, their families, and those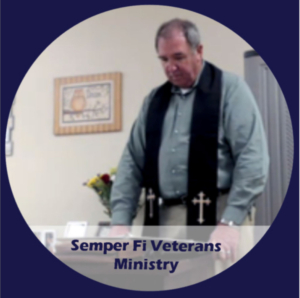 looking to get back in touch with God. The ministry offers online services and Bible studies through its website and Facebook page. There are plans to start in-person Bible studies for veterans and their families shortly. The ministry is in an area with many veterans from all military branches.
This ministry believes everyone has a story to tell, and they are there to listen. It offers a safe and supportive space for people to share their experiences, ask questions, and find hope. The ministry is committed to providing resources and support to those who have served our country.
If you want to learn more about the ministry, please visit its website or Facebook page. You can also contact it by phone or email.